2 Bedroom & 3 Bedroom Suites With Privte Pool
2 Bedroom Suites 9 units & 3 bedroom suites 1 unit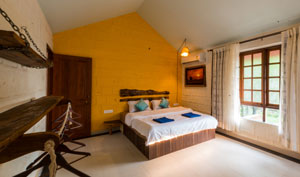 Each bedroom at Avontade is large, spacious and comfortable, with a king size bed and a thick mattress. Silent air- conditioning and muted lighting lend a cozy feel to the room. The bedroom on the upper floor has a small open terrace to relax and enjoy the serene surroundings.
The bathrooms are large and luxurious with top of the line fittings. Each bathroom has a shower cubicle with a glass partition.
Every villa boosts of a small kitchenette equipped with amenities like an induction cook top, cutlery and crockery. Each villa has an attached private pool with a sit out and a barbeque stand at hand. Few of the villas have indoor pools (covered pool) for complete privacy.